About Us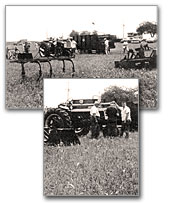 Ted F. Counts founded the Counts Auction Company in 1963 as a general auctioneering firm that operated as a sister company to Counts Realty for eight years. Recognizing the growth potential and success of moving both real estate and personal property via the auction method, Ted combined these firms to create the Ted Counts Realty & Auction Co., Inc. This joint venture proved successful with a steadily-growing client base and rising profits.
After working with Counts Realty for several years, David Counts opened Counts Auction Company in Abingdon, Virginia in 1980. This business expanded rapidly and soon another office was opened in Marion, Virginia.
In 1988, to meet the increased demands for high-profile, professionally-conducted auctions, Ted Counts formed a corporate partnership with William C. (Bill) Bryant, III, under the same corporate name to expand the firm's sales volume and geographical territory. This also added stability, expanded marketing capabilities, and increased expertise – pushing sales volume to over $20 million annually.
Dwight Counts joined the Counts Auction Team in 1995. This gave the team yet another experienced auctioneer with a lifetime of experience in the auction business.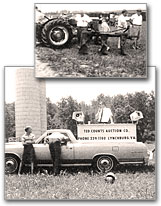 In 1998, Bill Bryant took over the day-to-day operation of the growing company. As president, he has garnered several key new members to the sales and support team, multiplying the group's capabilities and sales volume.
Also on staff are several real estate appraisers and business valuators to complement the auctioneers trained in personal property appraisals. Pooling together the talents and experience of this group, each member of the team benefits and learns – making our people some of the most well-rounded auction managers in the world.
Each auction is personally managed on-site by one of Counts' auction managers with a full support staff and a dedicated field representative. Decades of valuable experience, trustworthy reputation, and proven results have propelled the company's current growth and go into every auction Counts conducts.
A lot has changed since those first years, selling tractors from the back of an El Camino. Audio equipment and accounting systems have improved. Computers play an essential role in developing high quality and timely marketing. The Internet has added new dimensions of portability and convenience, as well as new boundless reaches of marketing. Regulations have increased to benefit auction buyers and sellers. While we've moved with technology and the growing trust in auctions a real estate marketing tool, we've not swerved from our purpose: to bring buyers and sellers together to help both accomplish their goals.